Published on
Metsimaholo Municipality In Numbers
Authors

Name

Sasolburg Direct

Twitter
On the 1st of November 2021, South Africans will take to the polls in the municipal elections to elect councils for all district, metropolitan and local municipalities in each of the country's nine provinces.
Municipalities represent the sphere of government closest to the people and have a bigger impact and influence over citizens' daily lives than the national government. Every day municipalities have to make tough decisions about driving economic growth in towns, building and maintaining infrastructure, building houses and providing the essential everyday services that residents depend on, like bin collections and filling in potholes.
According to the Auditor-General, 92% of municipalities are in poor financial health and require intervention. They are struggling because of poor management, corruption or a lack of adequate resources. As a result, service delivery protests have become a common feature across the country as communities show their dissatisfaction towards officials who they consider unresponsive and unaccountable. By exercising your right to vote, you will have the opportunity to change this and have a say about how councils spend money and run services in your community.
Here is a breakdown of Metsimaholo Municipality based on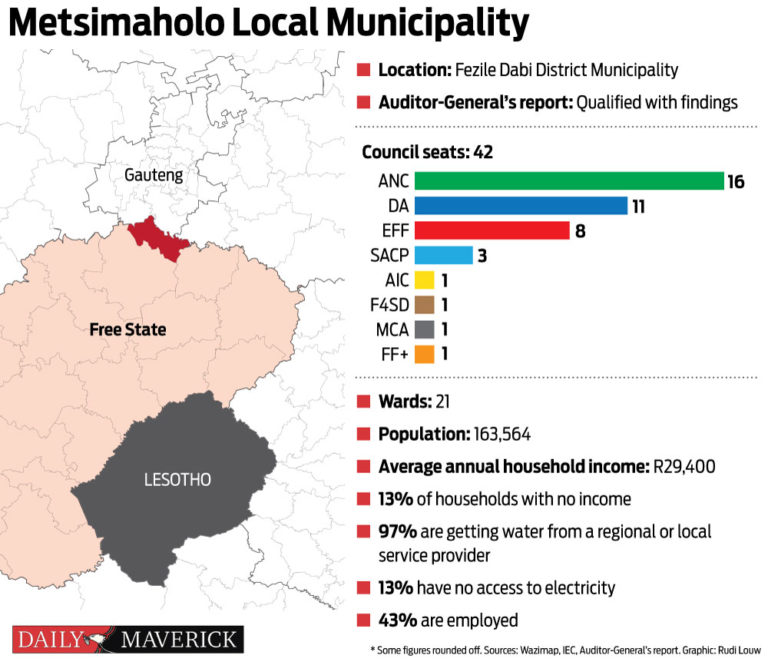 Metsimaholo Municipality in Fezile Dabi, Free State, South Africa
Population - 163 564
Households 59 115 of which 12.2% (7 195) of Households are informal dwellings (shacks).
167 Households are child-headed, with the head 18 years old or younger.
About 42.8% (44 261) of the population is employed.
72.4% of the population has completed Grade 9 or higher.
42.4% (46 804) of the population has completed Matric or higher.
The people of Metsimaholo are very eager and determined to make a change. Make sure to exercise your rights and do the right thing.
GO and Vote 'X'